Date: 30 November, 2002
Investigators on site:
Andrew Foster-Head Investigator
Lucas Fleming-Investigator
Joey Bradley-Investigator
Very interesting site. The Carolina team went on two separate nights. Lucas knew of a small cemetery approxiametly an hour walk up the bike trail dating back to the early 1800's. The first night we ran into a fallen tree about 45 minutes into the trail. The forest was pitch black without the flashlight, and all three team members felt the pressing need to leave. Lucas described it as "I wanted to keep going when we ran into the tree, but the moment I turned around I knew we needed to get out of there right then!" Leaving, the team members took pictures of the forest and hurried out.
The interesting thing is that only two of the pictures developed. So, we decided to return for a second trip.
Welcome sign and map station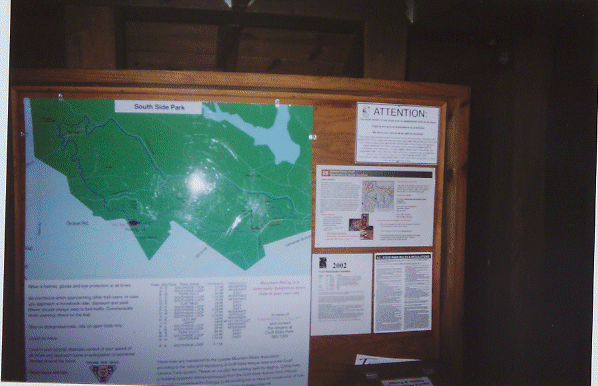 This is the first of many map stations spread throughout the forest (all of which we took pictures of, I might add). If you look closely at the bottom left of the map there is a red dot followed by red letters. This is the location of the map station. If you follow the green bike trail to the right until it is crossed by the yellow "centerline" trail just below the glare from the camera flash, the cemetery in question is only yards away from that point. The fallen tree could be seen from the map station marking the crossing of the centerline trail.